Raventos i Blanc
Raventos i Blanc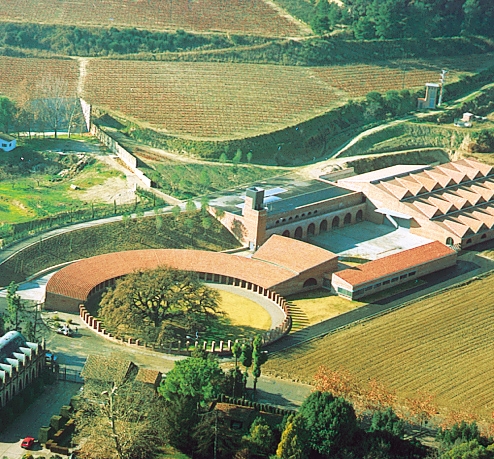 Wine production at Raventos i Blanc started in 1497 when the estate was founded in Sant Sadurni d'Anoia. This date has been authenticated by documents at the estate and recognized by the Spanish Government. The first Cava in Spain was produced here in 1872 by Josep Raventos Fatjo. The estate as it is now, was founded in 1984 by Josep-Maria Raventos, a member of the Codorníu family. He wished to create a small, quality-oriented winery that would stand apart from the large co-ops in the area. Today Raventos owns about 300 acres of vineyards planted mostly to local varieties such as Macabeo (Viura), Xarel-lo and Parellada.
When we visited the estate in July, Pepe Raventos, Joesp-Maria's grandson described the philosophy of the winery to be "completely terrior driven". Pepe has moved forward with a geological and climactic survey of the entire property which has revealed 44 individual parcels which will be managed separately.
Pepe worked with Didier Daganau in the Loire, Harold Hexamer in Nahe and Phillippe Blanc in Alsace before returning to his family's winery in the Penedes in 2001, giving him perspective and insight into his own estate. "We have great red wine from many regions. For sparkling wine we always think of Champagne; maybe the world would like to taste another interpretation". It is this sort of pioneering mentality, so focused on quality that has skyrocketed Raventos to the top of its category, served in 3 star Michelin restaurants like El Bulli and Arzak.
The soils at the estate are unique; the sedimentary calcareous soils were deposited during the Miocene period when the area was under the sea. At different altitudes the soils change, but the "mother rock" is all deep sedimentary limestone. At the very highest point, limestone and chalk soils are exposed, and this parcel is planted to Pinot Noir sourced from the Margaine estate in the Montagne de Reims.
As with all wines at the Raventos estate, The L'Hereu Reserva and the L'Hereu d'Nit Reserva Rosado are sourced entirely from estate grown fruit, all from a single vintage and aged for a minimum of 2 years.
The oldest vineyard, the Clos del Serral planted slightly lower is dominated by Galera, a compact clay. The vines here are 80 years old and are bottled as a single parcel wine, Manuel Raventos Gran Reserva.
The grapes are biodynamically farmed and certified by the Integrated Production Council (CCPI).
Certified Organic